Style that can be chosen. Olive is melodic, Manji is bluezee.
Modern style cover – Olive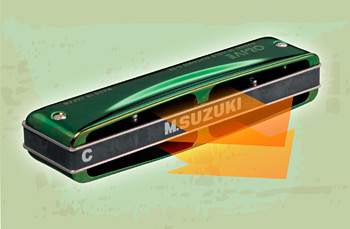 Brilliant green cover is imaged in OLIVE concept. This color adopted a nature-friendly method that does not use plating and paint at all. It features a distinct round and warm sound with a core that sounds thick and straight from the cover opening at the back. OLIVE is tuned to equal temperament, it is compatible with pops and jazz music, and among the Suzuki 10 Holes series, it is also a sister model of the blues style model MANJI which became the best seller with a hybrid body.
Olive demo by Maki Yamaguchi.
Model: C-20 A key
*Tuned to equal and it is good to melodic song, pops and Jazz.