Only one sound made by wooden body and wooden cover.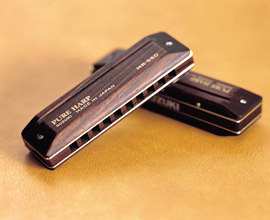 This harmonica was developed as a supreme wooden Suzuki 10holes harmonica for the harmonica player who loves the sound of wood.
Adapting rosewood for body and newly designed reed for reedplate, it realized a thick core tone and playability. This model is stick to the sound of wood and succeeded in making even covers with rosewood. This cover has the sound of an unprecedented warm wood tone and it is the only sound in the world that is available in Suzuki.
Remark;
Rosewood is used for MR-550. Though coating processing is done on rosewood part, there is a case causing allergy symptoms depending on constitution by touching with hand and mouth on rosewood part. In that case, please stop using it immediately and consult doctor.
Also, please understand that since rosewood is a natural material, there are some irregularities, knots, color unevenness etc. on the surface.
【Note】
Material rosewood will changed to Hawaiancore from July.2019.
Amazing grace by Pure Harp MR-550