Small and light, easy to handle
It is a 5 tone set consisted only by derived notes to be added to MBH-8. MBH-8 and MBH-5 make one octave chromatic 13 notes.
Because it is small and lightweight, it is a music bell that small children can play without difficulty. There is no direction of the bell to use, and the sound is emitted regardless of the direction, and it sounds well only by lightly shaking, so it is easy to express tremolo and sound strength. The bright tone and bright colorful bell make the performance fun and gorgeous.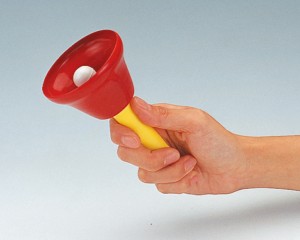 Easy to find notes by color.
The bell harmony is a set of bells that are color-coded for each sound. The relationship between bell color and sound is as shown in the image.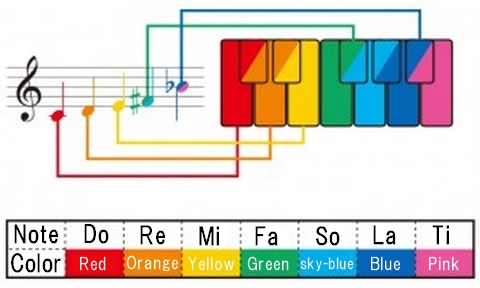 Basic tone is single color, derived notes is two tones
Basic tone is a single color of the bell and the color of handle and cap is yellow. Derived note is two tones bell color and the color of handle and cap is black.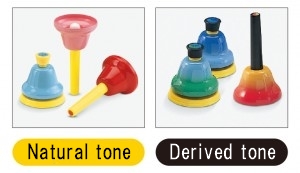 Choose from two types: hand and desk type
There are two types of bell harmonies: a hand type for shaking and playing, and a desk type for putting and striking on a desk.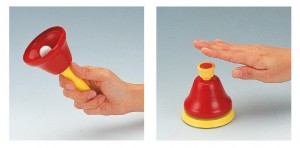 Expand the range
It is possible to expand the range to two-octave with 25 notes by adding other sets to the eight basic notes. The required number of notes and the range differ depending on whether it is used for playing sounds or for an ensemble. There is no waste because you can increase the range and number of sets according to how you use the bell harmony.

Design to prevent the expansion of spring
The thread is passed through spring and is designed to prevent the spring from stretching. There is no concern for children to extend the spring.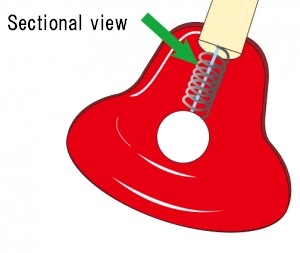 Specifications
| | |
| --- | --- |
| Range | 5 Derived notes - c#2-a#2 |
| Material | Bell: steel, Handle: PS, Head: ABS |
| Dimension | φ75×130mm |
| Weight | 95g per note |
現在Artist commentの紹介はございません。
現在Related productsの紹介はございません。
現在Notation Chartsの紹介はございません。