Keyboard harmonica strap - KSS-1
A dedicated shoulder strap for use with keyboard harmonica with strap pins. Because the overall length is shorter than the guitar strap, you can adjust the length more tightly to a position where you can easily hold the mouthpiece.
SUZUKI logo mark on the leather end. The strap is a black and white wave pattern.
Four models are available
Two models from SUZUKI and two models from HAMMOND are released simultaneously.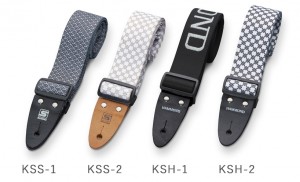 We adopted comfortable, soft, smooth cloth.
You can use it more comfortably with the length considering the keyboard harmonica performance.

現在Artist commentの紹介はございません。
現在Notation Chartsの紹介はございません。