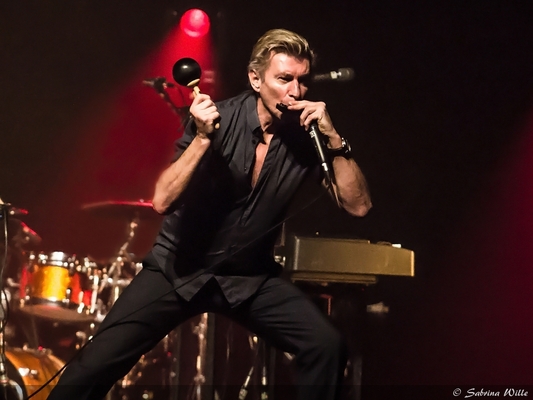 PaulMichiels is one of the most experienced and best voicesfrom the low countries. You could say he isan icon in the Belgian music scene.
Paul began his career in thesixties with his first pop group Les Jeunes. The firstgreat success came in 1974 with the Anglo-Belgian closeharmony-band Octopus. After this, together with Jan Leyershe started the well-known group 'Soulsister' – originallycalled 'The Soulsisters' – and scored an international hitwith "The Way To Your Heart".

In 1989 the song reached theBillboard Top 100 in the United States resulting in many TVshows, interviews and live concerts, including touring with the legendary Joe Cocker and Sting. One by one the next fiveSoulsister-albums went gold or platinum.

At the end of 1995, Soulsisterdisbanded and Paul began a successful solo career. First bythe side of Robert Mosuse as The Big M's, then later all byhis lonesome. In this period Paul gained attention as a soloartist this time, with the albums - Magic In The House, It's Agas (with Jeroen D'Hoe), Let's You & Me and A Singer's Heart.

Hits such as "Let Me Be Turned ToStone" and "Forever Young", a cover of Alphaville areingrained in the mind of the Flemish audience. With hissoulful voice, his passion for music and his songwriting, it'simpossible to imagine the Belgian music industry without PaulMichiels. "Forever Young, I Want To Be Forever Young" Paul isabout to turn seventy years old but he seems more like seventyyears YOUNG!.

'Ageless' is the title of the newfull CD and of the upcoming theatre tour.
The album release is scheduled for14/06/2018 where he will perform 3 sold out concerts in a rowat the CC Zwaneberg in Heist-Op-Den-Berg to celebrate. Thetheatre tour is planned in the autumn of 2018, where he willbrowse through his favourite songs of past and present likeonly he can.

Backed up by his fantasticlive-band: Hervé Martens (keypad), Vincent Pierins (bass),Eddy C (percussion), Chris Van Nauw (guitare), IberniceMacBean & Nina Babet (backing vocals) and Dave Imby(drums).Paul Michiels is één van de meest ervaren en ook éénvan de beste stemmen uit onze lage landen. Al jaren is hij eenicoon in de Belgische muziekscène.