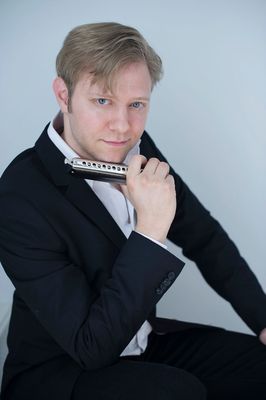 Harmonica virtuoso, Joe Powers is known for bending and blending genres from jazz to classical, hip-hop to world music, and Argentine Tango. Since gaining a music degree from the University of Oregon he has performed around the world, from Paris to Tokyo and won the Belgian Crystal Harmonica Award/Classical Division in 2008.

Powers has collaborated with renowned Tango maestros including; Narcotango, Tanghet to, Otros Aires, Nicolás Ledesma, Emilio de la Peña, Horacio Cabarcos, Pablo Motta, the UK's "Tango Siempre", and Japan's "Orquesta Aurora". He has also appeared with groups/artists as diverse as Pink Martini,British pop icon Jamie Cullum, Canadian Boogie-Woogie pianist,Michael Kaeshammer, Sony jazz guitarist Yosuke Onuma, French blues legend J.J. Milteau, and the Ichikawa Symphony Orchestra in Japan.

In 2012 his Tango quintet was featured with sold-out performances at one of North America's top Classical music series, the Oregon Bach Festival, sharing the bill with superstar violinist, Joshua Bell. In 2013 he guest stared with the Vancouver Symphony orchestra kicking off their 35th season with double performances of the Gordon Jacob Harmonica Suite.On his 2016 world tour he gave a sold-out concert with the Barcelona Symphonic Band, and performed the Villa Lobos Harmonica concerto with the Macedonian Philharmonic Orchestra guest conducted by famous Bulgarian conductor, Emil Tabakov.

His fifth studio album, "Apasionado" was recorded in April,2015 in Buenos Aires with some of Argentina's top Tango musicians and features six of Joe's original compositions as well as six Tango classics.

Here's Joe talking about his favorite harmonicas:

"Whether I'm playing Tango, Jazz, Classical, Blues, or Brazilian music, Suzuki has the right harmonica for the job.The SIRIUS S-64C gives me the range I need with a clear tone that rings out whether amplified or acoustic. The cover plates are sleek and note-bending is smooth and effortless. The MR-550 Pure Harp is warm and responsive. The durable phosphor bronze reeds are perfect for deep bends and overblows, and the rosewood body is beautiful to hold and behold."