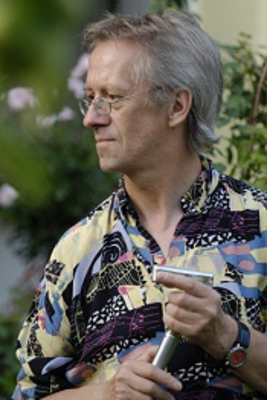 Hammie van Hall was born the 27 of January 1953 in the village of Doornenburg in the Netherlands. As a young kid he was already interested in the harmonica.Later at the age of 15 he started playing this little instrument seriously. The blues at that time was and still is the music in which he could explore himself on that amazing small instrument. His greatest influences are Little Walter, Sonny Boy Williamson, James Cotton,Sonny Terry, George Smith, Walter Horton en Norton Buffalo.

During the years Hammie has played with Eddy Clearwater(who said: 'you got the right feel'), Louisiana Red, Robert Jr. Lockwood, Buster Benton,Taildragger (who said: 'the way you play your harmonica you make me sing good'), Buddy Scott (who said: 'you may look white, but you really sound black').

The blues was Hammie´s favourite music to play, but these days he also plays other styles like country,reggae, gospel and rock´n´roll, singer/songwriter,ballads.

When Hammie plays he plays with his heart and that made him a much-loved blues harp player.

In the many years of playing the blues harp he has played many different brands of blues harp from various famous harmonica-companies. From 1992 Hammie has only played the Suzuki Promaster Valved 350 harmonica´s.,because up to now he hasn't found a higher quality harmonica which lasts longer and has such a beautiful round and warm tone. This high quality blues harp from Suzuki has a lot of power too, so it doe sot need much energy to make a wonderful sound.

"I'm still playing the Suzuki Promaster Valved (MR-350-V) because I can't find a better harmonica. I love the Promaster Valved because of its beautiful, round, warm and powerful tone. The reed plates last much longer than any other make and you don't have to blow or exhale hard to get a beautiful sound. The Suzuki Promaster Valved is still the number 1 for me!"