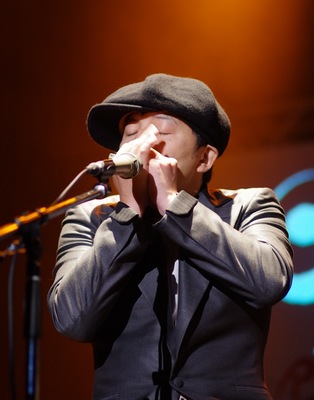 Began playing harmonica and guitar at 15 years old. After graduating from high school, he went out to Osaka. He realized that I had nothing and decided to try harmonica in earnest as a means of self-expression. And from the age of 19, he devoted life to intrusive sessions every day. Return to Tokyo at the age of 23 and started professional activities. At the same time, he began teaching in harmonica lesson hosted by Koichi Matsuda, and then started his own harmonica lesson at the same time as Bruce Harmonica book.

However, he begun to feel the limitation of blues harmonica to the music he wants to do, and started chromatic harmonica.Through years of trial and error, he thoroughly pursues the sound of Stevie Wonder and Toots Thielemans, and mastered it along with jazz theory. He brings unique and cutting edge next generation style that handles blues harmonica and chromatic harmonica by his own methodology.

He had been participating in lots of recordings of various artists, movies and TV etc. He also wrote many instructional books. Besides provides music to movies and theater companies, and works on music production.In addition, the friendship with top harmonica players in Europe and USA is deep and attracting attention in the world harmonica scenes. As a Suzuki harmonica artist (Endorser), he is shown in the world's harmonica catalog as only one Japanese player.