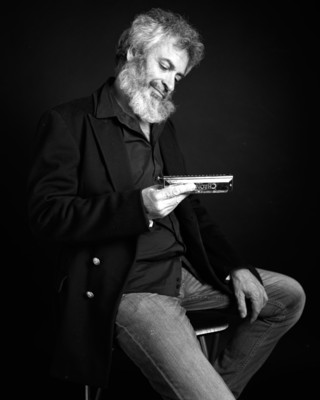 <Biography>
Angelo Adamo is an Italian chromatic harmonica player. In addition to his numerous collaborations in pop music as well as cinema and theater soundtracks productions, he composes, teaches harmonica and carries out an intense activity as a jazz and classical soloist (his classical repertoire also includes works by Johann Sebastian Bach, Heitor Villa Lobos, Darius Milhaud, Gordon Jacob, Ralph Vaughan Williams, Alan Hovhaness, ...). He has produced six CDs in his name and three theatrical shows on themes that range between Art and Science. He holds three Bachelor (Astronomy, Music, Art), a Master in Science Communication and a PhD in physics and astrophysics and also works as an astronomer, popularizer, illustrator/cartoonist. The sum of such varied experiences and studies strongly influences his way of interpreting music and the role of harmonica in the contemporary music scenario.

<Comments on his SCX and Sirius>
SCX series represents a turning point in the panorama of chromatic harmonicas: roundness of the sound, absence of spurious sounds, intonation, ductility of the reeds, fluidity of the register, elegance of the lines, absence of angles that could annoy the hands that support it, a comfortable mouthpiece, able to adapt to the characteristics of different instrumentalists.

SIRIUS series: a further and necessary evolution for those who really want to be a harmonicas player. In this range there are tools that, to all the previous characteristics, add the stability of the sound given by the use of highly sought-after materials, capable of giving back to the sound the feeling of response of the instrument: you play Sirius and Sirius return you the sounds making you vibrate inside what you have just expressed outside. Constructed with thick and heavy materials, the SIRIUS series make the arms do the right job to do to keep an object with an evident consistency and importance.

In the life of the musician there are factors of undoubted importance, the SIRIUS is the right point of arrival giving you the awareness of being a musician worthy of this title.