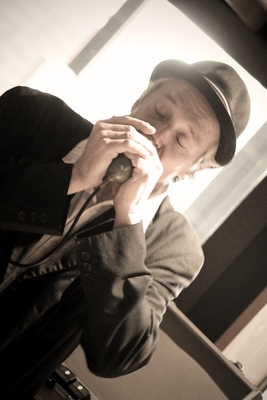 <Biography>
Multiple award winning artist Bo Brocken (stage name: Big Bo) plays his Blues from the heart and soul. He has been around for more than 30 years, playing his traditional style Blues. Performing as a one-man-band, using a full foot-operated drum set, harmonica, acoustic and electric guitars, resonator guitars and Cigar Box Guitars, he plays traditional blues in Delta, Piedmont, Misissippi Hills and Ragtime style. He definately has a way of doing it. In his own high-handed style, he pays tribute to musicians like Robert Johnson, Skip James, Muddy Waters, Brownie McGhee, Charley Patton, Blind Willie McTell and many others, back from the old days when the Blues was born and he does it in a very convincing and genuine way.

Big Bo was fascinated by the Blues in his younger days when his parents spinned the records of John Lee Hooker and Muddy Waters. When he got his first guitar at the age of 12 he started studying the blues. At the age of 17 Big Bo was already performing on stage. Through the years he has become a renowned and well-respected bluesmusician, playing venues and festivals all across Europe, touring Scandinavia, even playing the Svetlana Music Hall of Moscow and performing in several juke joints all over Mississippi when he was traveling from Chicago to New Orleans in 2012, carrying just his guitar on his back.

With his raw but soulful voice Big Bo accompanies himself on the acoustic and electric guitar, steel resonator guitar, cigar box guitar, bassdrum and hihatt, creating a powerful one-man-band sound. In his original songs, but also in Blues traditionals from the 30's, 40's and 50's, his music breathes the atmosphere back from the old days when the Blues was played in the fields, juke joints and on the porches of the Mississippi Delta. With his rudimentary finger-picking style and slide guitar technique Big Bo captures the sound and feel of the traditional Field Hollers, Delta Blues, Ragtime, Piedmont and early Chicago Blues.

In October 2015 Big Bo has won the Dutch Blues Challenge in the category Soloist/Duo's. He was a competitor in the International Blues Challenge in Memphis, January 2016 to represent his country and made it to the half finals, together with 32 others in the category soloists/duo's, out of 2500 competitors worldwide. In 2016 Big Bo's CD "Traveling Riverside" won the Best Dutch Blues CD 2015 award. In 2018 he releases his new CD: "Preaching The Blues" with 12 authentic bluessongs, a soundtrack from his theatre tour by the same name.

In 2019 Big Bo was nominated in 4 categories of the Dutch Blues Awards:

Blues-act Award, Blues-musician Award, Popularity Award and Special Achievemt Award.
Big Bo only has one mission in life; the Blues and it's impressive heritage needs to be heard, preserved and kept alive.

<Comments on Suzuki harmonica>
I really love the Suzuki Manji harmonica for it's flexibility and tone. It is loud enough for my needs and sounds very balanced with sparkling clean highs and warm lows. The sound is rich, with lots of harmonic overtones.
The Manji offers easy bending and over-blowing possibilities. Besides that, the instrument is built rugged and feels like it will last forever. To me it is the best harmonica I have ever used.

The image is taken by photographers, Vera van Faassen.