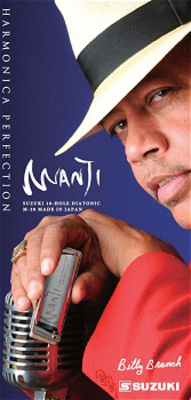 "First of all I would like to say that I am very pleased to be workingwith Suzuki as a new endorsee. I am also proud to represent the new
Manji model, and especially honored to have contributed to the designof this dynamic new diatonic harmonica. I feel that the Manji is very
suited to my needs as an artist. It's sleek design is user friendlyand fits comfortably in my hands. It is lightweight, yet delivers afull and rich tone, which as any serious blues harp player knows, isessential to a good performance. I am sure that the founder, Mr. ManjiSuzuki is proud to have his name associated with this harmonica, and Iam also very proud to play it."



Billy Branch has followed a very non-traditional path to the blues. Unlike many blues artists, he isn't from the South. Billy was born in Chicago in 1951 and was raised in Los Angeles. He first picked up a harmonica at the age of ten and immediately began to play simple tunes.

Billy returned to Chicago in the summer of '69 and graduated from the University of Illinois with a degree in political science. It was during these years that he was introduced to the Blues. He soon became immersed in the local blues scene. He spent a great deal of time at legendary blues clubs such as: Queen Bee's and Theresa's Lounge; he learned from such stalwart harmonica players like: Big Walter Horton, James Cotton, Junior Wells and Carey Bell.

His big break came in 1975 during a harmonica battle when he beat Chicago legend, Little Mac Simmons at the Green Bunny Club. He made his first recording for Barrelhouse Records and began to work as an apprentice harp player in Willie Dixon's Chicago Blues All-Stars. He eventually replaced Carey Bell and worked with Willie Dixon for six years.

During this time, Billy formed the Sons Of Blues (S.O.B.s) featuring musicians who where the sons of famous blues artists. The original S.O.B.s consisted of Billy, Lurrie Bell, Freddie Dixon and Garland Whiteside. They toured Europe and played at the Berlin Jazz Festival. Shortly afterward, they recorded for Alligator Record's Grammy-nominated Living Chicago Blues sessions, and Billy has been a regular studio player appearing on over one hundred albums.

Billy has recorded and/or performed with an incredible list of Blues legends including: Muddy Waters, Big Walter Horton, Son Seals, Lonnie Brooks, Koko Taylor, Johnny Winter, and Albert King. In 1990, he appeared with three harplegends: Carey Bell, Junior Wells, and James Cotton on W.C Handy Award winner, Harp Attack! His most recent recording with Kenny Neal for the Aliigator label is entitled Double Take and won a W.C. Handy Award.

Billy is also passing on the blues tradition to a new generation through his Blues In The Schools program. He is a dedicated blues educator and has taught in the Chicago school system for over twenty years as part of the Urban Gateways Project. Annually, some of his finest students opened the Main Stage at the Chicago Blues Festival which was broadcast throughout the U.S. on National Public Radio.

Blues producer, Chicago Beau has written, "Billy Branch has become a beacon, and model for his times; as an artist, and social/cutural activist... Billy Branch is a Bluesman; Billy Branch is the Blues."