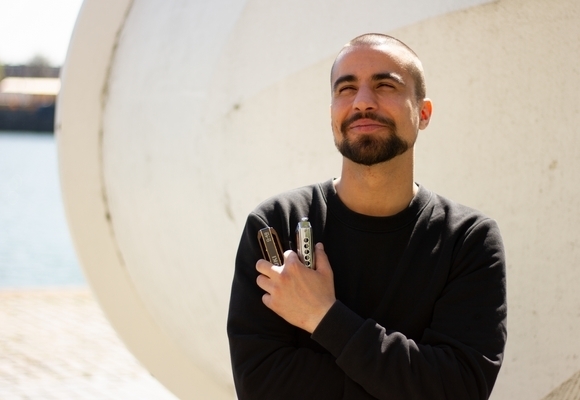 <Biography>
Born in Porto, Portugal on the 8th of September in 1992, Ricardo first got introduced to the harmonica after picking up the diatonic at the age of seventeen. His passion for the Blues led him to an intensive period of self-teaching the instrument in which he not only enlarged his knowledge of Blues language and repertoire but also established himself as one of the most serious diatonic harmonica players in the country, recording with pop bands and starring as a guest in at least five dates with one of the country's most popular artists - Rui Veloso - in a series of shows that included some of the finest stages in the country such as Coliseu do Porto and Coliseu de Lisboa.

After a 4th place in the Blues/Folk competition at the WHF 2013 in Trossingen, determined to amplify his knowledge and expand his repertoire and skills, Ricardo switches to the chromatic harmonica at age twenty-one and begins a two and a half year long period of jazz theory and harmony studies with accomplished double bass player Nuno Campos in Porto which eventually led to a half-year accompaniment from legendary Dutch trumpetplayer Jarmo Hoogendijk in Rotterdam, The Netherlands.

Following a successful application in the year 2016 he enrolled at Codarts, the Conservatory of Rotterdam, becoming the second-ever CodartsJazz Harmonica graduate, having Jarmo Hoogendijk as main tutor and Jan van Duikeren and Hermine Deurloo as side-teachers. Ricardo finishes the four year course in 2020 with honorary mention. His performance in his studies also led to being awarded a monetary prize from the association Vrienden van Codarts.

It was in Rotterdam that he had the chances to perform with star saxophonist Tim Ries in Ijsselmonde Theater (Rotterdam) and also bring his own project NOTET to North Sea Jazz Festival 2019 and Lantaren Venster (Rotterdam) stages.

Ricardo is now not only an active member of Afro/Caribbean band Banda Matatu (Released first EP Oct. 2019) as a composer and harmonica player but also fronts his own originals project - NOTET. He also fronts a Toots Thielemans/Pepper Adams Tribute along with baritone saxophonist Rik van den Berg, the Ricardo Silva Trio, and participates regularly in Blues dates as sideman, thus demonstrating immense versatility and musical eclecticism.

"[He]has successfully overcome a number of instrument-specific limitations and difficulties on the harmonica in a way that has not often been seen before. (...) in his improvisations he lavishly scatters chord substitutes, thus demonstrating a very mature harmonic/melodic insight. (...) in addition to great band leadership, he also demonstrates the ability to compose contemporary jazz repertoire with his own signature." Jarmo Hoogendijk

"Ricardo is a virtuoso jazz harmonica player and seriously studies new techniques on the chromatic harmonica." Hermine Deurloo
Some words about suzuki instruments:"My introduction to Suzuki instruments was through the SCX 48, which I find an instrument of superior quality. I particularly like that instrument's sound projection and it has proved to be faithful when it comes to durability. After getting comfortable with its shape, playing other designs didn't feel as natural. On the other hand I find the G48W(as well as the G48) to be the best I came across so far due to its incredible response, delicate, intricate sound and tone malleability. I actively use both models as they differ in timbre and suit different musical needs."



NOTET - In Between | Sofar Rotterdam
Banda Matatu - Safari [Official Video 2019]
Instagram:
https://www.instagram.com/rsilva.harmo/
Youtube:
https://tinyurl.com/yylm7ryp
BANDA MATATU ON SPOTIFY:
https://open.spotify.com/artist/3VWqmjXiJfoLRqTlJWkHLi?si=94UHuUOlTbWGvufaHmW07g


The author of photos are Duy vu Dinh, Ilona Mrgolle and Frederike Scheffer.