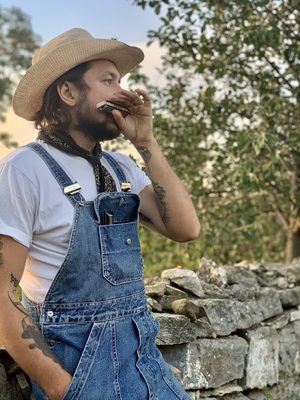 <Biography>
"Like in the western movie taking place in some outlaw country, Sasha's first foreign tour made him bankrupt, he was winded up in jail for 2 days and had his manager deported. In 5 years' time he managed to play more than 400 concerts on the biggest stages in the whole Eastern Europe. During the last 5 years, Sasha's played over 400 shows in more than 15 European countries. His last album "Golden Tooth" reached #2 position in iTunes Ukraine. He played support acts for "King Dude", "Black Rebel Motorcycle Club", "Me and That Man" etc. At the beginning of 2018 Sasha became a member of Nergal's (Behemoth) side project "Me and That Man" as guitar/banjo player and a singer. Sasha is also the author of music and lyrics to some of the band's songs. One of them was performed by Corey Taylor from Slipknot as a guest vocalist. In April 2017 Sasha's performed 24 shows in 24 hours in 24 different places. He is the first Ukrainian musician who's played a tour in Iceland. Sasha also known as a fan of concerts in not typical places, as children gardens, hospitals, prisons, churches etc"

<Comments on Suzuki Harmonicas (Manji)>
"I started my harmonica journey with Hohner, being honest. Simply, because back in the days it was extremely difficult to find some other harmonicas in provincial city music store.

When I started to tour a lot, especially abroad, I tried some other brands: Suzuki, Seydel and Lee Oscar.
Some of them were endurable, but with low playability. Some - sounds good to my ear but bad to my wallet.
Now, analyzing that experience I can tell that Suzuki has this perfect balance between endurance, playability, and price. And last but not list - awesome design.

Another thing that I love in Suzuki Harmonicas is the innovative approach in constructing kind of one of the simplest music instruments.

I really can't name you any other uncustomized harmonica that can give you the possibility to play, as you can play with Overdrive or SUB-30 models.

Overdrive is my favorite model for studio performing and for playing in a classic way, using my arms. When I play using a holder along with guitar or banjo - I prefer M-20. Because it sits better in the holder and has more universal characteristics. It's AK-47 in a world of harmonicas - reliable and player-friendly."