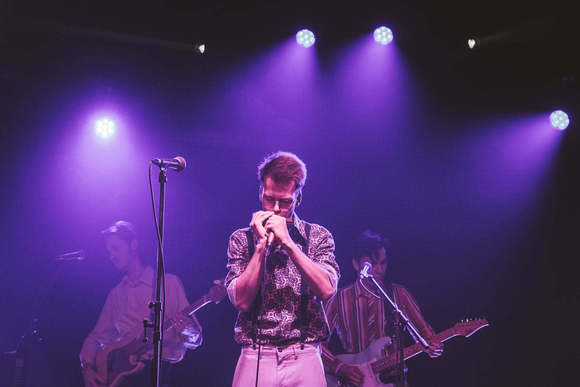 Biography:

Rutgers life is an ode to music and boundless creativity.

From the age of six, Rutger embarked on his musical journey, starting with the piano. Classical roots laid the foundation, but his heart found its true home in jazz, as he delved into the art at music high school. It was there that he discovered his passion for the chromatic harmonica, a unique instrument that became his artistic canvas. Devoting six years to the pursuit of mastery, Rutger immersed himself in the world of the chromatic harmonica within the Jazz Bachelor's and Master's program at the prestigious Codarts conservatory in Rotterdam, Netherlands. In 2022, a game-changing moment arrived when he won the Toots Thielemans Challenge, supported by Toots' own management. This win marked a turning point in his career, and he maintains close contact with the same management.

His music has resonated on grand stages, from a performance for Belgium's royal family to enchanting audiences in Berlin and gracing the Brussels and North Sea Jazz Festival in 2023. Beyond solo endeavors, Rutger is an ardent collaborator. His "Duo Gaitar" with his former teacher Marijn van der Linden explores a blend of jazz, chanson, and Brazilian music, thrilling crowds at renowned events.

Rutger is also a part of the music collective 'Shikata Ga Nai,' a funk-fusion band, with whom he released their debut album in October 2023. Co-leading the "Mathys/Idris Quartet," he won the Dinant Jazz Contest in July 2023. His artistic spirit extends to theater projects, tango ensembles, choro groups, and more. In essence, Rutger is a masterful musician crafting evocative landscapes, both within the borders of music as beyond. But most importantly: across them!

Comments on Suzuki harmonica's:

I bought my first Suzuki (a G-48W) after I was accepted at the conservatory of Rotterdam. The moment I put it at my lips, a new world opened up. The sound, the feel, the power, … It brought me and my playing to a higher level. With the Suzuki models (I also play an SCX 48), you really feel like playing an instrument and not just a toy as some people see it. The G48-W gives me the agility that I need to play in a lot of different settings:an intimate duo with guitar, a heavy fusion/jazzrock band, a Brazilian Choro group,… This instrument can play it all! I have a very powerful style and tend to play quite hard. The G-48W is perfectly fit for that and the SCX is a fantastic alternative budget-option!