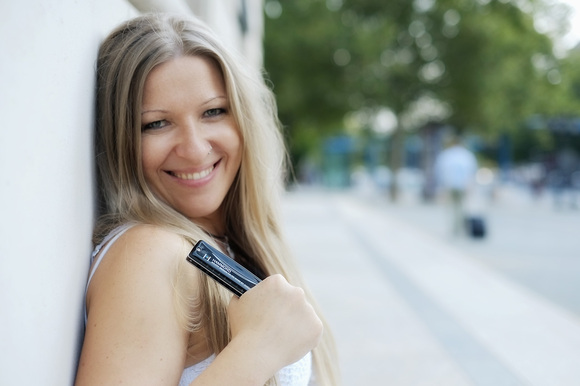 During my attendance at the Frankfurt Music Fair, a colleague asked me to collect some Suzuki Harmonicas. I had heard they were good, but only from what others had told me. The people on the Suzuki stand very kind and let me play every model. I was so impressed, I couldn't hide my enthusiasm! That was the beginning - it was like a 'first love'. They were simply the best and finally I had found the ideal harp for me! Certainly proving why Suzuki is one of the most formidable Harmonica manufacturers in the world!

BIOGRAPHY – Beata Kossowska

Beata is one of the most advanced blues virtuosos, with a repertoire ofstyles including traditional Blues, over Blues-Rock to Funk.An incomparable dynamic style mixed with a vibrant personality and charismatic presence, the combination of which makes Beataa remarkable player, performer and singer.

With seemingly unlimited energy Beata performs and teaches in many countries, including Poland(where she originated) and Germany (where she now lives). And she speaks five languages! As an endorser of Suzuki Harmonicas, Beata has been instrumental in promoting what she considers to be "simply the best."

Beata has performed in Memphis, Paris, England Italy, Holland,Belgium, Hungary, Russia, Poland and Germany. Involved
in several Guinness-World-Records connected with harps and a welcome guest on several television broadcasts connected to her music. A collaborator with various Blues bands, recorded music for several movies, and holds master classes for Harp around the world! In 2008 she met the Bavarian Blues duo Bernreuther/Bayer and with them recorded three CDs:

-The Cologneconcert
-Heart, Blood, Ballads
-Soul on fire

Following on in Germany with recording of two harmonicas CDs:
-Die wunderbare Welt der Mundharmonika
-Weinacht's CD

Beater believes her mission in lifei s to integrate people with music for pleasure and purpose and to show that everyone can have fun and creativity in playing and performing.
She has her own school of Harmonica for beginners and the more advanced and encourages people to perform on stage; 'something they would never think possible'!

Beata believes that " music is very important in our lives - it gives us hope and shows us the way, so let's have a fun with music!"

Following on from her book 'Harmonica in Practice' (basic exercises for the absolute beginner) Beata is now working to follow on with additional material and related videos.
Other projects soon to be announced!