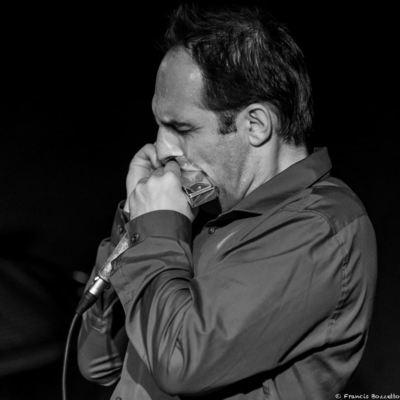 (Biography)

Laurent was born in Paris in 1970 and began playing at 17 in various blues and rock groups (Peter Kingsbury, Mighty Sam Mac Laine, Adrian Burns). At 22 he discovered jazz music and chose to follow this unexplored path. In 1994 he studied at Paris' C.I.M.

Laurent plays in several groups around Paris and Bordeaux. With Toots Thielemans' encouragement and Do Harson's incitement, he decided to produce the album 'Mano a Mano' featuring the Francis Lockwood trio and a string quartet. The recording was made at 'Studio Lubans' in December 2001 winning the Trossingen International Harmonica Competition in Germany.

In 2003/2004, he was a student at the Didier Lockwood's Jazz School where he met Orlando Pole (percussions, Venezuela) who hired him in his "Afro Venezuelan Latin jazz quintet". They performed together in various places in Europe (Seville,Genève, South America (Caracas, Maracay) and still collaborate today.

Author and composer Clem Cardenas, (2008 Best Jazz at Disk Union,Japanese Label in Tokyo) signed Laurent for her new album "The Dance". As well as featuring in the album, Laurent went on to tour with Clems band throughout Europe: Geneva, Barcelona,Paris, Cologne.

In 2009/2010 Laurent appeared on Yves Carbonne albums, "Seven Waves" and "A Life" (Alternity Record Label USA - California) with Marcus Miller among other guests.

In 2009 Erik Manana (one of the most famous singers in Madagascar) invited Laurent to play with him in various festivals, including the OLYMPIA in Paris (Nov 2009).

2010 Laurent met Mayo Hubert, ana mazing Gypsy guitar player and composer during a jam session in "Festival Nomade " in Bordeaux. Laurent liked Mayo's music and they recorded together in April 2011. The recordings were released in October 2012.

In 2011 Laurent traveled to Greece with his own '4Tet', performing at "Alliance Française " in Athens. He meets up with Giourgos Kontrafouris (one of the best Greek Jazz piano player) who he had worked with at "La Teste Jazz Festival" a few years before. Giourgous invited Laurent to play with '4Tet' at the prestigious "Santorini classical Festival" in September 2011.

2011/2014 is also the beginning of anew era for Laurent. He travels to Beijing (China) and is welcomed by Chinese audiences and local musicians, so he decides to stay for a while in China and Korea, playing 4 days a week and developing his personal music compositions,arrangement and working on new repertoires; from Duet to Symphonic Orchestras.

2016: Laurent settles down in Paris where he begins to make his name among the Parisian jazz community. Concerts with Alain Jean-Marie, Samson Schmitt,Mario Canonge, Felipe Cabrera, Orlando Poleo, Jeff Boudreaux,Gilles Naturel.

2018, Laurent launched his new album 'La Derniere Chance' in an all European tour.