Enjoy practice connecting to microphone
This product can be equipped with the harmonica microphone(HMH-100) which is sold separately*. Collecting sound in the microphone can be monitored by headphones, and also is can be enjoyed with effects such as reverb.
※ Using only harmonica microphone can not be worked. Connection cable, headphone and amplifier(effector) are needed.
※ There are two parts where microphone is mounted and use one of those. On the left side, the bass is picked up, and on the right, high sound is picked up more.
*Related products
-Harmonica microphone set HMH-100
-Cable LI-5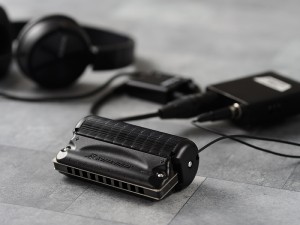 An example for connecting of a microphone.