Practice with anxiety-free.
SHINOBIX It is the world's first mass-produced 10-hole harmonica set, it comes with a silencer that allows you to play, without worrying about loud sounds disturbing family and neighbords.
It is designed to lower the volume of your diatonic harmonica without affecting playablilty. In the three options from SHINOBIX line-up, Suzuki diatonic harmonica users have a choice to use "User's set" and attach your harmonica's body to SHINOBIX covers, which directs the tone into Suzuki's custom made Silencer. The silencer utilizes individual spiral structures for each of the 10 reed chambers; effectively reducing the sound level by around 15-20dB.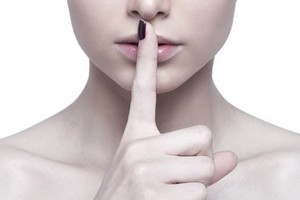 (*SHINOBIX received the JAPANESE GOOD DESIGN AWARD in 2018.)
Package Set with two options
1. Full Set (Key of C)/ SNB-20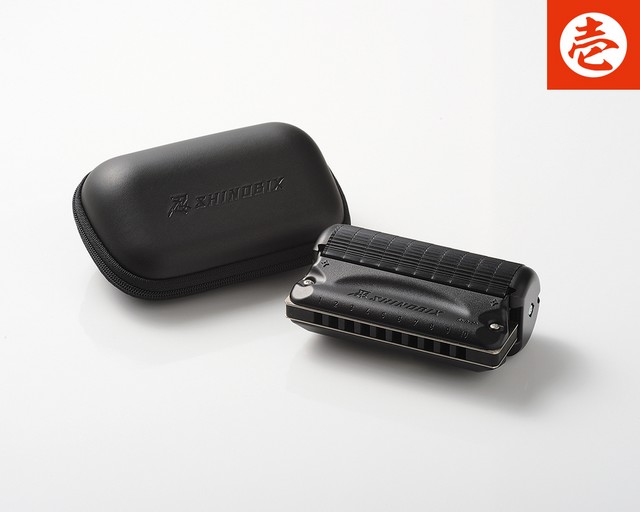 This is recommended for beginners and not Suzuki harmonica users.
A full set that can be used immediately after purchase.
*Set contents: Silencer / Harmonica(C key) / Semi-hard case
2. User's Set / SNB-20CVS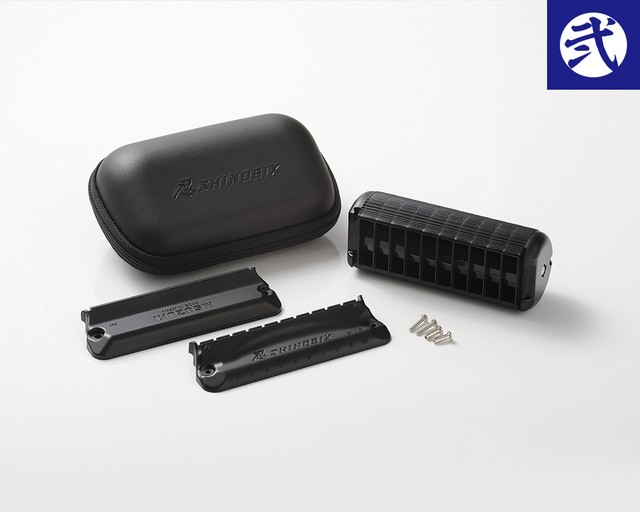 This is user's set not including harmonica body.
*Set contents: Silencer / Upper and lower harmonica cover / Cover screw x2 / Semi-hard case>

Available to choose only harmonica cover set.
3. Harmonica cover set / SNB-20CV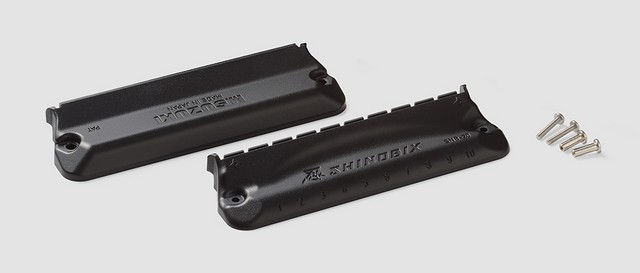 *Set contents: Upper and lower harmonica cover / Cover screw x2.
Combines silencing effect, maintainability, and playability in one.
SHINOBIX consists of two parts(harmonica and a silencer) and is easy to be attached and detached. The cylindrical shape silencer has a helical structure inside and exert high silencing performance despite its small size. The easy-to-play cover shape allows you to enjoy practice without loosing the harmonica's playability.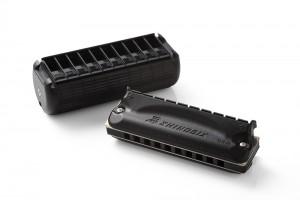 Silencing effect
SHINOBIX exerts a greater effect when playing with strong breath, reducing the sound pressure from 80- 90dB in normal to 60 to 70dB. It can be cut around 15-20dB on average by each sound.
※This is reduced to about 20% of the sound pressure compared to the case the sound pressure of a general 10-hole harmonica is 100%.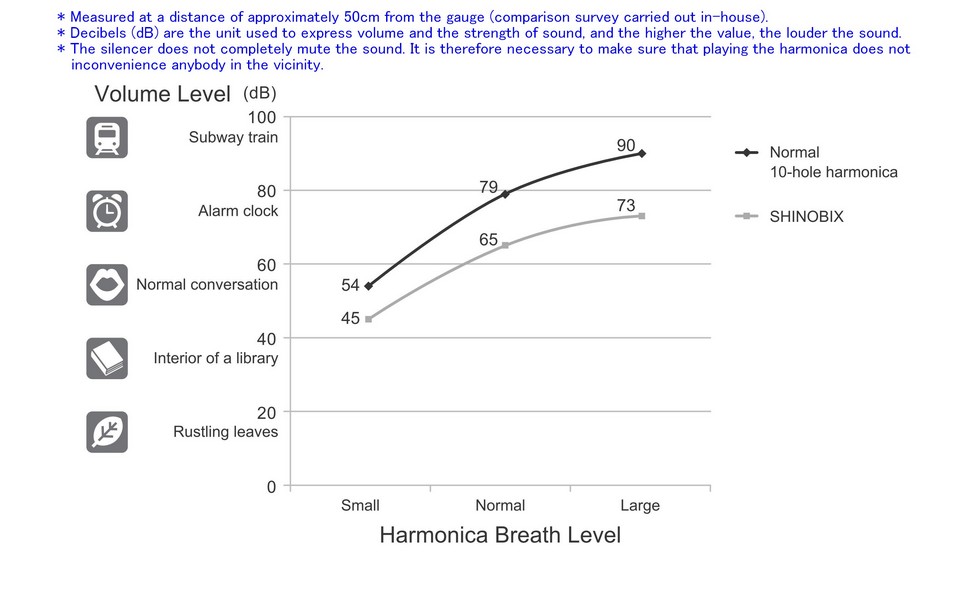 Secret of silencer -10 individual inner rooms where sound is pushed into.
The conventional harmonica is connected as one big space inside. Therefore, when blocking the sound outlet by cloth(for example) to get a silencing effect, the air flow back to the hole that is not played and the sound may leak or a different sound may be produced. SHINOBIX silencer is divided into 10 rooms corresponding to each holes to solve it. The sound is confined to each rooms, and the silencing effect is exerted by pushing sound into a spiral structure. Also since disassemble and cleaning is possible, it can be kept clean for use.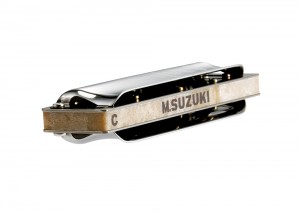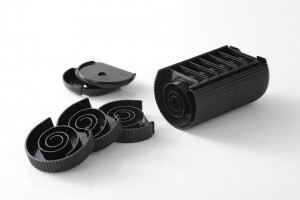 Replacement of harmonica body
SHINOBIX can also be used by replacing harmonica body of Suzuki 10-hole harmonicas (except some models) . Therefore, it can be used by replacing the body of your favorite model and other keys.
*Harmonica body is not sold individually.
*The harmonica body supplied with SNB-20 (Full set, Key of C) is the same model as Olive(C-20).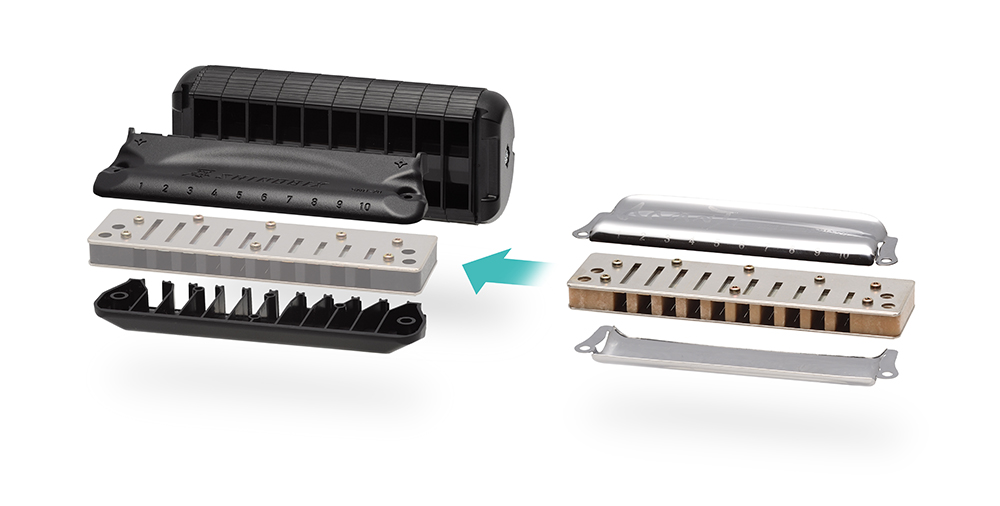 *Harmonica models which can be used for SHINOBIX.
M-20 (except Low key)/ C-20 / F-20 / HA-20 / MR-550 / MR-350 / PH-20N

Enjoy practice connecting to microphone
This product can be equipped with the harmonica microphone(
HMH-100
) which is sold separately*. Collecting sound in the microphone can be monitored by headphones, and users can enjoy it with effects such as reverb.
※ Using only harmonica microphone(HMH-100) can not be worked. Connection cable, headphone and amplifier(effector) are needed.
※ There are two places where microphone is put into and use one of those. On the left side the bass is picked up more, and on the right high notes are picked up more.
*Related products
-Harmonica microphone set HMH-100
-Cable LI-5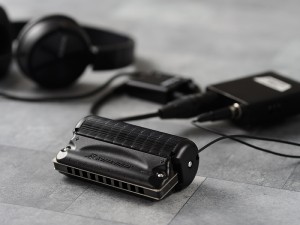 An example for connecting of a microphone.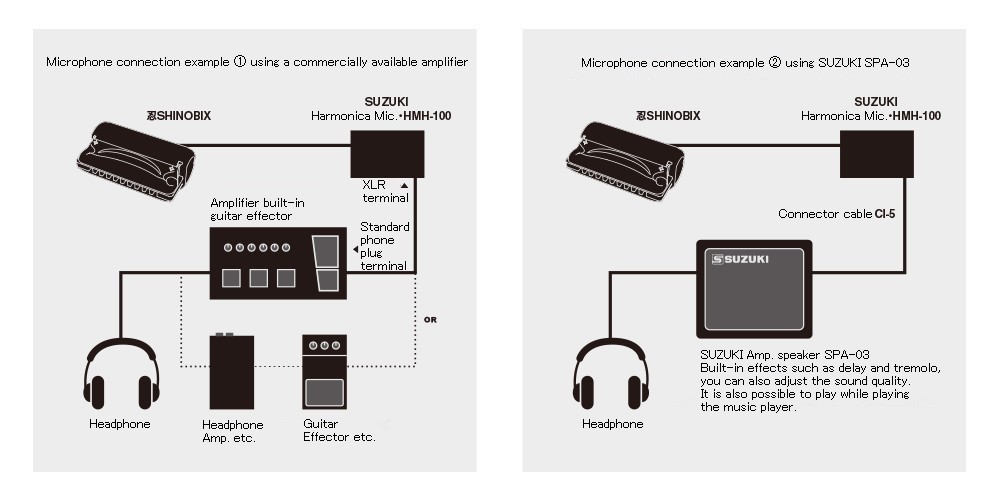 Specifications
Range
10-hole, 20notes
Material
Cover / Silencer : ABS
Body: Resin with Natural wood fiber
Key
C
Measure
100×62×42mm
Weight
116g
Accessory
Semi-hard case
現在Artist commentの紹介はございません。
現在Related productsの紹介はございません。
現在Notation Chartsの紹介はございません。