5-holes 10notes mini harmonica
Though this is 5 holes 10 notes mini harmonica with key chain, it is a musical instrument that can play neatly even if it is small.

There are more than one octave range and you can enjoy many songs. Three colors of white, black and red are available.

Minore means "smaller" in Italian. Double meaning of small size and "Minoré" = "fruitful" in Japanese and hearing like Japanese as well. We wish that the "bud of music" of those who got this small harmonica will be grown up well.

Minore also supports original specifications such as souvenirs, novelties, shop original goods and so on.
With small harmonica, many songs can be played.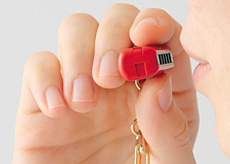 Though "minore" is small harmonica, it is a musica instrument that you can play neatly with good sound "C(Do), D(Re), E(Mi), F(Fa), G(So), A(Ra), B(Si), C(Do), D(Re), E(Mi)". Many songs like "Moonriver", "Yesterday once more" can be played.
Movies
Yesterday Once More by Minore


Edelweiss by Minore


Mt.Fuji by Minore


Album of memories by Minore

現在Artist commentの紹介はございません。
現在Related productsの紹介はございません。
現在Notation Chartsの紹介はございません。