Cute Melodion case for kids is made.

● Melodion can be stored with each case in bag.
※ It is limited to model with 32 keys or less.
● The fabric is also stacked inside the cloth case, making it durable by double tailoring.
● It is hygienic because it can be washed.
● With a convenient inside pocket for storing small items such as handkerchiefs and pass cases.
● Name tag is attached to the inside of the bag.
● The pattern is animal musical band playing variety of musical instruments.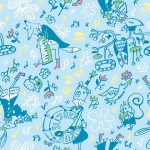 "Olioli" is a word that means "fun" in Hawaiian.
We will deliver fun items that will make everyday life a little bit happy.