Fun to play music together.
The Choir Horn is a set of horns with different notes.

Other than playing sound, each person playing one sound at a time, playing one music together, and it is a fun instrument that can also be used as a fanfare.
One octave 8 notes set choir horn.
Because the pitch differs by one octave by blowing and drawing, children can experience the relationship between different actions and different results/sounds. It is an easy-to-use one-octave 8 notes set as an introductory model.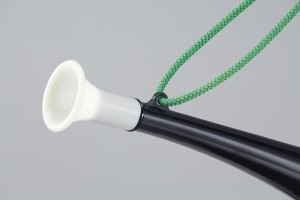 There is a hole through the string.
※ string is not included.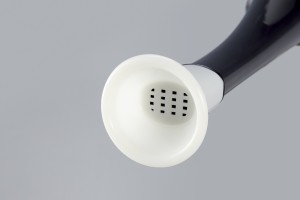 The mouthpiece is mesh to avoide big trash entered, and it prevents reed from entering the mouth when broken.
Specifications
Range
Blow c1 ~ c2 *only basic 8 notes.
Draw c2 ~ c3 *only basi 8 notes.
Material
ABS
Dimension
Horn: 213 x 50 x 57 mm
Case: 530 x 250 x 70 mm
Weight
Horn: 30g
Case: 800g
Accessories
Case · spare mouthpiece × 5 pieces
Remark
Different sounds are produced by Blowing and Drawing.
*Drawing sound are one octave higher than blowing sound.
現在Artist commentの紹介はございません。
現在Related productsの紹介はございません。
現在Notation Chartsの紹介はございません。