MANJI M-20 10th Anniversary Model - M-20X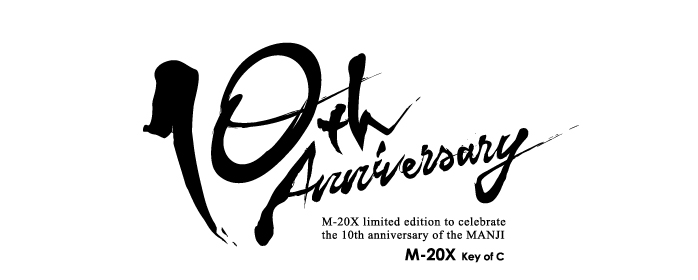 The ultimate standard model MANJI M-20 which is the core of the Suzuki 10-hole harmonica.
M-20 has become a hot topic for an innovative materials and sounds that broke the tradition in the passed, it was greeted with surprise and pleasure in the music world.
Ten years passed since its debut.
Now that M-20's "innovation" is being into "immutable",
as a milestone, MANJI M-20X will be released with limited production of 300pcs.
For the M-20 that tried to reproduce the sound of wooden body with new materials,
M-20X adopts a wooden body that dares to look back on tradition.
Using a plate thicker than M-20 for a sticky and strong playability and a heavy tone with a core.
Furthermore the characteristic cover shape is the same as M-20,
laser marking is adapted to mark a limited model in black.
Every detail is carefully adjusted and finished, taking care of every single detail.
You can feel the high potential of M-20 again, and we think that you can also enjoy the difference of each charactaristics between M-20 and M-20X.