Billy Branch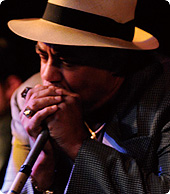 Billy Branch
http://www.billybranch.com/
MANJI fulfills my requirements of harmonica player very well. This streamlined body is easy to play and comfortably fits in hands. Despite having a sense of volume, high sound quality that the true professional harmonica player says, it is light weight, enabling advanced and free playing. I am proud to play with this wonderful harmonica.
【Profile】
Born in 1951 in Chicago. I woke up to the blues while I was in the University of Illinois, went to the blues club in Chicago and studied harmonica from Big Walter Horton, James Cotton, Junior Wells, Carey Bell. In 1975 defeated the Little Mack Simmons of the Chicago Legend with a harmonica battle, making it famous.
He played for 6 years as a harmonica player of Willie Dixon band instead of Carey Bell.
And he formed his own band, Billy Branch & the Sons Of Blues.
After that, for over 30 years, as a master of the harmonica of Chicago Blues, the real active Chicago bluesman is still present.
W.C. Handy Award Winner, nominated twice for the Grammy Awards.
For many years, he has hosted "BLUES IN SCHOOLS PROGRAM" and teaches the wonderfulness of Blues to children in the whole country and all over the world.