What is the meaning of streamlined form…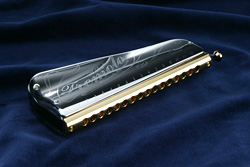 Although direction of the design was settled, it was difficult to fit the reeds as described above to the interval of already established holes on mouthpiece. Although streamlined form was designed by 3D CAD, it was necessary to cut out the wood to make sure the solid configuration and to make prototype model step by step while checking the ease of holding and vibrancy of the sound. Furthermore, it was very difficult to make a mold according to its prototype, until then it could only be made in a very simple form.
The key point whether to proceed from here is left to the person in charge of making mold. In the voice of the person in charge saying "I do not know whether I will be able to do it or not, I have to actually do it", everyone involved in this harmonica project think "if it cannot be success here, we have to give up ...".
However, in order to create the novelty of this harmonica and new value, everyone got together and we got a powerful word "I can make it somehow" from the staff in charge of mold, and it was succeeded.
The tremolo chromatic harmonica thus made has a characteristic shape like a piano. That is because it was necessary to bring the reeds for fundamental tones and reeds for tremolo tones as close as possible to stabilize the tremolo. There is no unnecessary design, all designs were made by necessity to create this sound. We think because it is a meaningful form, it is more beautiful.